How often do we get to meet our superheroes?
On Saturday, April 05, 2008, the day Charlton Heston died, I met my literary superhero, Ray Bradbury. The wifeypoo(Susan) had convinced me to skip out on my work responsibilities. That we would have more fun visiting her favorite mortuary, Hollywood Forever, followed by a dinner at Palms Thai, a restaurant with a Thai Elvis impersonator. Little did I know I would also be meeting my literary hero Ray Bradbury.
At that time in my life, I had been working as a Longshoreman, Electrician, and Radio DJ. Had an expensive life at that time I guess. That and I'm pretty sure I've always been a work-a-holic. I still work way too much. Nonetheless, the wife cajoled me into taking the night off to drive up to Hollywood Forever for another one of our regular wanderings about the grounds of the old graveyard and mausoleum. Honestly, I wasn't too thrilled to be going out that night and was somewhat of a petulant child about having gone. That is until I almost ran Ray Bradbury down with my olive green 2006 Toyota Camry.
Interestingly, Ray was a man who took it upon himself to never drive an automobile. He didn't like them very much and felt the world would be a better place without them. Maybe he was right. At this point, we will never know. I imagine roads filled with driverless vehicles within my own lifetime. It could be a reality already if we really wanted it to be. It's 2022 and the current level of testing that they are doing with fleets of driverless vehicles is proving positively that they are much safer than humans behind the wheel.
True to form, without a vehicle, Ray Bradbury was out with his caretaker for a night on the town. Or at least a cup of Starbucks coffee.
Wifeypoo and I had just left Hollywood Forever and were headed to dinner at Palms Thai when we got diverted in search of the apartment that Julia Roberts occupied in the movie Pretty Woman located just above Hollywood Boulevard, not more than a block from where I met Ray. We headed back down to Hollywood Boulevard and were met with quite a bit of traffic. After a few boatloads of traffic and just as many rivers of pedestrians pouring across Hollywood Boulevard I saw a momentary opportunity to squeeze my car through before the next raft of short-stepping pedestrians would subject me to another red light in frustration. So I made the leap of faith.
All of a sudden the next few moments morphed strangely into a 3-second slow-motion reel as I realized the man crossing the street right in front of me was none other than Ray Bradbury. The only thing I could utter was, "Oh my God, that's Ray Bradbury." I was so shocked I'm almost surprised I didn't rear-end the car that was just before me as I made the turn.
Filled with emotion and amazement I started craning my head around to see where he was going next. As I look to my right I see him being assisted by his caretaker, both heading into the front door of Starbucks Coffee. I was now a man on a mission and I knew what my next move would be. Find something that was likely not going to exist that close to Hollywood Boulevard. An open parking space on a busy Saturday evening. But alas, my karmic bank must have been overfull that night because like a miracle of that same God I called out for in surprise made parted a Red Sea of cars, providing me with a parking spot just outside of Starbucks, and one with no parking meter hungrily begging for nutrient-rich coin. So I fulfilled my calling and parked the car.
Filled to the brim with emotion I jumped out of the car and headed into the Starbucks. Not sure why, but for some reason, the wifeypoo stayed in the car. Gathering my composure, I entered Starbucks to be greeted by none other than Ray Bradbury.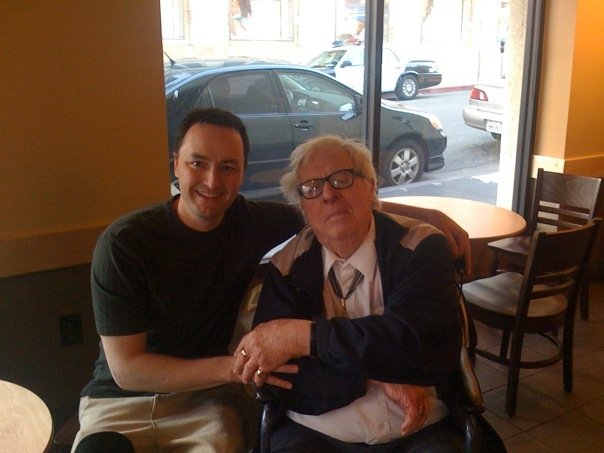 I imagine you can tell by the look on my face that I was in rather good spirits. Over the years I had intended on going to a book signing or attending a lecture of his but never did. This however was much better. After paying him a debt of gratitude for inspiring me to want to read more as a boy in Junior High, he asked me which of his books I liked the most. I told him that I'm not sure I could nail it down to just one, so I didn't. I had two favorite books. The Martian Chronicles and Fahrenheit 451. Afterwhich he invited me to attend the opening night of a new rendering of Fahrenheit 451 taking place just two weeks later at the Fremont Centre Theatre in Pasadena. Of course, I took him up on the offer.
The theatre was cozy, to say the least. If I remember correctly, it only seated about 50 guests. And Ray Bradbury was one of them on that opening night.
After the show, Susan and I had a chance to talk with Ray for a moment while he was signing books for people. He signed a copy of Something Wicked This Way Comes for me. We even got to share a glass of wine with him. It was a nice evening and a great way to get to know someone that you look up to. And to boot, he was a genuinely nice person interested in those that invested their time reading his books. In some sense, it felt like he was as happy to see all of us as we were to see him.
It's hard to say what the best thing was about the whole experience, but I will never forget what he said when I introduced him to my wife. He said, "Why didn't you tell me your wife was so fu**ing beautiful?"
I write this almost 10 years after Ray Bradbury passed away. And I would like to imagine that he is able to in some way read this post along with all of the other kind words that people have written about him since he moved on. That being said…
Hey there friend. It has been a while since we spoke last. Since that time you looked upon my beautiful wife, we have gone our separate ways. She is still a beautiful and wonderful person, but we just couldn't get along together in a healthy manner, so we decided to build a better life apart. I'm not sure if you remember, or if I even mentioned it to you, but she is a mortician and is often found working in various cemeteries around Southern California. And she occasionally ends up there at Westwood Memorial to visit Norma Jeane Mortenson(Marilyn Monroe) along with some of her other favorite actors. And on occasion, she makes her way past your little piece of eternal real estate. So keep your eyes open my friend. You may just get to see another side of her as she stops by to pay her respects.
I've got a lot more work to do catching up to the likes of you. You see, these days I am an author too, and it's going to take me a while to catch up to you and your legacy, but I'm going to do it. I know the secret thanks to you. I'll see you in a bit old friend. Then we can both enjoy the view from that generous and welcoming porch at your timeshare on Mars. We can sip a little dandelion wine late one October night while looking back on Earth from afar. By then Elon Musk will have those rockets you described so well running on a regular schedule and they can provide us with that gentle rumble off in the distance that will bring a smile to your face.
Until then, your friend.